Keynote Forum
Vydehi Institute of Medical Sciences & Research Centre, Bangalore, Karnataka, India
Time : 11.00 am - 11.45 am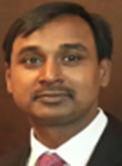 Biography:
Currently working as a Chief Administrative Officer & Professor and Head, Department of Hospital Administration in Vydehi Institute of Medical Sciences and Research Centre, Bangalore, India. Also, President of WEPPIA (Whitefield Export Promotion Park. Industrial Association), Bangalore which consists of 120 companies of varied industries such as IT, Health-care, Hospitality and Manufacturing.
Multi-tasking Senior Medical Administrator, trained successfully in NABH and JCI accreditation process and responsible for efficient functioning of clinical services, administering the entire medical hospital operations and quality of care, offering more than 15 years of rich expertise in entire Medical College and Corporate Hospital Management, Facility Management, Business Development, New Set ups of Super-specialty Hospitals, etc. Possess more than 5 years of experience as COO with profound proficiency in working in top level designation in Corporate Hospitals such as Head/ Group of Hospitals Head.
Associated with US and UK based consultancy firms (hospitals and health-care sector) and given consultations to different firms located at Singapore, UK, USA, Denmark, Hong Kong, India etc. Holds the merit of receiving "Vaidya Ratna" award in 2014 and recently awarded as "101 Fabulous Global Healthcare Leaders"
Abstract:
Background: Healthcare sector in India has progressed at an impressive pace over the past five years and the "medical travel" has proved as a major growth factor for the expansion of Indian economy. As a silent revolution, medical tourism industry has become one of the fastest growing service sectors of 21st century.India ranks second as medical travel destination in the world after Thailand, but still a very limited research has been done so far to assess the perception of international patients regarding travel to India for medical services.1-2
Objective: To assess the perception of the patients coming across international borders regarding their preference to choose India for medical services.
Methods: This was a cross sectional hospital-based study which was conducted for a period of 3 months. It was an analytical type of research where 100 international patients were interviewed from 11 different hospitals spread across whole India (representing North and South India). A semi-structured interview scheduled with a five-point Likert type scale was used fulfil the objective of the study.
Results: More than 80% of patients were agree with the fact that there is deficiency of quality of care and proper infrastructure in health facilities in their country. majority (> 80%) of patients were strongly agree or agree to the facts that India has top qualified medical professionals and latest technology for treatment, there is less waiting time for treatment procedure and the treatment is cost effective.
Conclusion: Considering the perception of international patients, there is need and scope to improve and expand the health service delivery in India to reap the benefits of medical travel to the maximum possible extent.